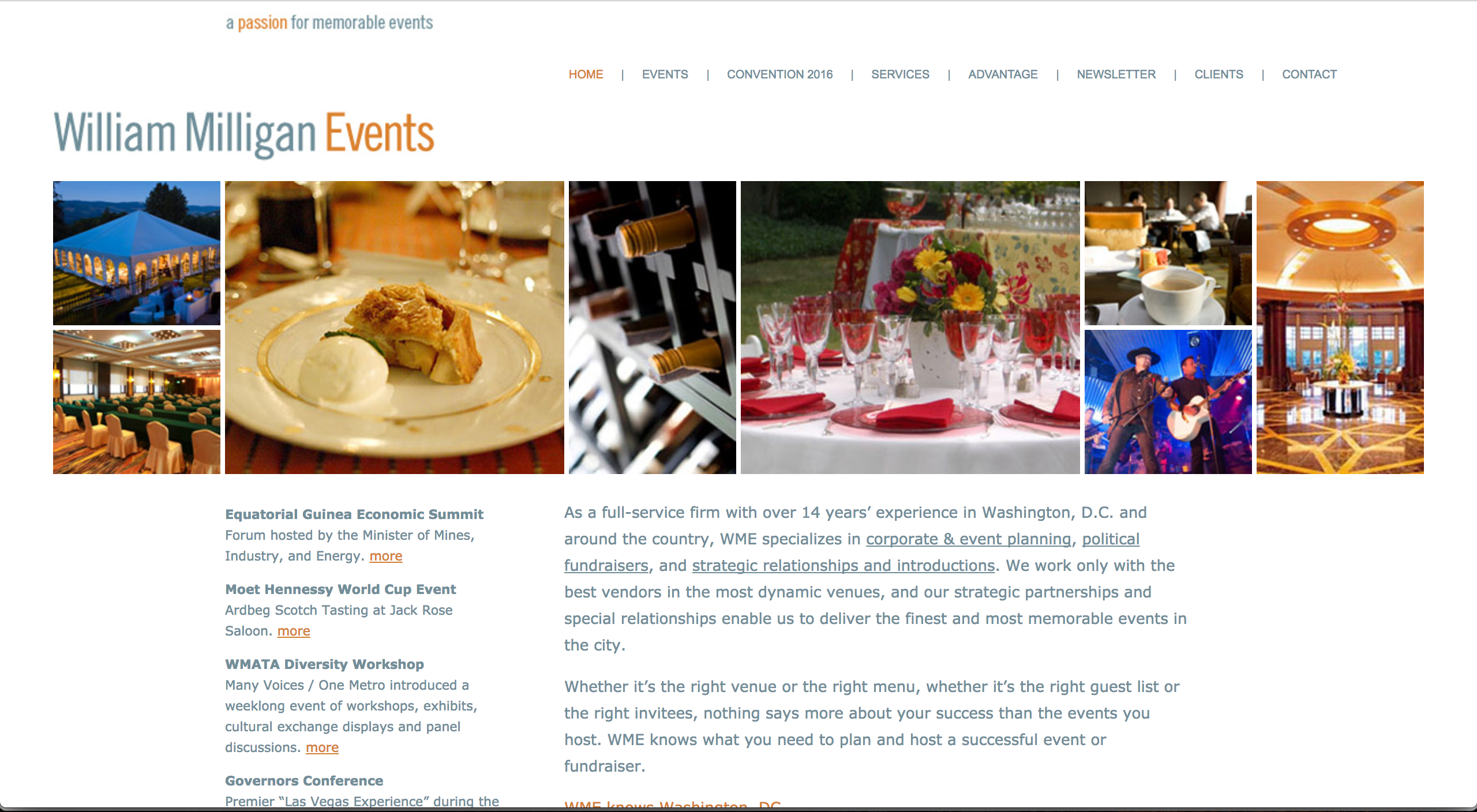 Project Description
As a full-service firm with over 14 years' experience in Washington, D.C. and around the country, WME specializes in corporate & event planning, political fundraisers, and strategic relationships and introductions. We work only with the best vendors in the most dynamic venues, and our strategic partnerships and special relationships enable us to deliver the finest and most memorable events in the city.
Whether it's the right venue or the right menu, whether it's the right guest list or the right invitees, nothing says more about your success than the events you host. WME knows what you need to plan and host a successful event or fundraiser.
The Challenges
Will Milligan Events came to KBS Technology with a blacklisted IP address due to bargan webhosting. Will Milligan Events needed Microsoft Exchange and a document sharing and backup solution. The newsletter solutions they were using was becoming ineffective due to the continual blacklisting of their IP and domain name. 
The Results
The Results:
KBS Technology started by transferring all hosting of website and email to secure KBS servers. We migrated WME from an old POP/IMAP email structure to a hosted Microsoft Exchange environment. We helped created shared calendars and public folder to facilitate group work and document sharing. We worked with WME and their clients to ensure emails flowed correctly to inboxes instead of spam and junk filters. 
KBS helped WME move all company related documents to Dropbox, successfully backing up their entire business. We worked to setup departmental shares, and even work with the company principals to backup their personal documents.
With email, websites, and data backedup and secure, we turned our focus to marketing. We introducted WME to Constant Contact and showed them the power of email analytics. We continue to help WME create and send email newsletters and event invitations.